[This was written yesterday, as you will quickly figure out...but alas, I couldn't publish until today. Tax Day. Lovely. But, I think it's still a very fitting choice...]
Mondays suck... But I have good news. There exists a band whose music is so good for your soul that it will make Mondays just a little more bearable. They will make you smile and feel at peace in the midst of the storm. Or if they're not really you're thing, they could help you fall asleep and enjoy a nice nap. Your call.
I first heard the Fleet Foxes at the end of high school, maybe the start of college. I was experiencing the normal social anxieties that go with the territory, and my older brother offered to help in the only way he knew how -- by sharing his music collection with me. If I listened to "cool" music, I too would become "cool", right? (Wrong, and fortunately I don't give a shit now.) Within that collection, I remember hearing the Fleet Foxes' self-titled album and thinking something to the effect of "well, I really like it, but it's kind of boring." And that was the end of that...until recently, when I heard "Mykonos" from their Sun Giant EP, and it all kind of made new sense to me. I've listened to that EP repeatedly, and today I just bought their first album again. For a stressful mid-spring Monday (which irritatingly enough included snow earlier!), listening to the Fleet Foxes has certainly raised my spirits!
Fleet Foxes is an indie folk-revival band from Seattle. I feel like that's a pretty generic description that fits half the indie music scene out there. But I think these guys deserve credit for really paving the way for that genre to take off, even if they don't really have the same commercial successes of other indie folk bands (e.g. Mumford & Sons). Fleet Foxes blend harmonies that are both delightful and grand, with minimalist percussion, and classic folk banjo and guitar-work. Some songs have been appropriately named hymns, as the echo effects make it truly sound like it's filling some old chapel tucked away in the Blue Ridge Mountains (coincidentally another song's title) or somewhere equally quaint. I can't mention the lyrics, because honestly I have no idea what they are saying, but I don't really care - for me, the vocals are more of an instrument in their compositions than a means to get across an idea.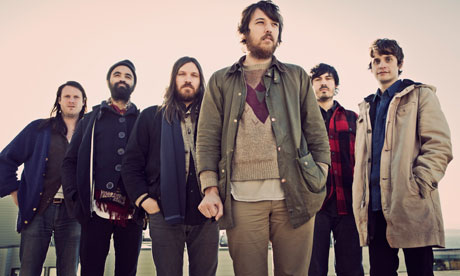 (
photo source
)
Best Song:
This is a tough one, because I think their strength is the cohesion of their compilations. I recommend listening to their albums in order and in one sitting. Although if I have to narrow it down say to make a playlist, I would definitely include "Mykonos" from Sun Giant EP and "Sun It Rises" from Fleet Foxes...but then I would probably try to sneak the rest of my limited collection too (there is another album from 2011, Helplessness Blues, that I would buy right now if it wasn't tax day. Ha.)
Listen Now:
"Mykonos"
"White Winter Hymnal"
Enjoy!